By: Jennifer Schuler
Technical Writer
As you consider storage for personal pictures and home movies, or your capacity needs for storing large amounts of images for your business, there are many options available. Online storage places abound!
In this three-part series, we are exploring several key features, as well as advantages and drawbacks, of some of the most popular storage options. At the end of this point-by-point analysis, a "verdict" is provided as to how a particular storage option may or may not benefit you and your business.
In Part I (/your-best-storage-options-part-i/), we looked at various factors which can affect the storage options you choose:
Space required as it relates to gigabytes available for your hard drive
Volume of storage space
Functionality
Total storage capacity and maximum size for uploaded files that are allowed by a cloud storage service
In the end, the more storage capacity you need, the bigger the expense. We also explored three storage options, beginning with the basic hard drive.
In Part II of this series, we take a close look at three cloud-based storage options – Microsoft Sky Drive; Google Drive; and Apple iCloud.
1) Microsoft Sky Drive
Advantages:
Supports a range of operating systems and mobile devices.
Provides 7GB free with a Microsoft account; upgrades (20, 50 or 100GB) are available at a low annual price.
Interfaces with Windows 8 for a consistent look across PCs, tablets, and phones, yet still works perfectly well on Windows 7 and Windows Vista.
Supports versioning.
Office files stored on Sky Drive can be viewed and edited from within the browser using appropriate Office Web Apps.
There is no need to import and export files in order to back them up (as users must do with Google Drive), as files can be saved straight to Sky Drive.
Exemplary features for sharing media are available – including built-in photo, video, and audio playback facilities. Images can be viewed as slideshows, and users can get details that other cloud storage services don't offer.
Disadvantages:
Lacks sophisticated admin tools. Basic features such as document permissions and password-protected files are not present in Sky Drive.
Although Microsoft Sky Drive is more sophisticated than Google's document app, the CloudReviews website (www.cloudreviews.com) encourages users to invest in the full suite of Microsoft server products to get the most out of the cloud's services.
Verdict: The real benefit of using Sky Drive is that it is securely tied into Office 2013. It keeps your Office documents synced across multiple PCs and backed up in the cloud.
2) Google Drive
Advantages:
Increasingly the foundation of Google's cloud-based services, Google Drive supports a range of operating systems and mobile devices.
No other service provides as much space for free (15GB of pooled storage for Gmail inbox, Google Drive files and documents,

and

Google+ Photos); higher capacity plans are available.
Incorporates online storage and synchronization features along with integrated online office apps.
Provides easy access to files on Google Drive and at-a-glance monitoring of recent activity. The browser-based interface will be familiar to users of Gmail and Google Docs.
Downloadable Google Drive applet available to create a Google Drive folder on your PC, which then enables synchronization of that folder across multiple PCs (and even Macs!) –as with Dropbox or Sky Drive.
Top-speed synchronization rate – with edited files syncing from one PC to the next in under 40 seconds, according to the CloudPro website.
Improved security, now that Google offers two-factor authentication for its products and partly because HTTPS is now used for transferring data.
Disadvantages:
When it first launched, Google Drive's user interface was not easy. The service did not offer the one-click functionality of Dropbox or the Windows/Office integration of Sky Drive. To share a folder, for instance, users had to go to Google Drive in their browser and right-click on the folder sitting there. To some extent, this has changed and files can be shared with a right-click from within the Google Drive folder, while the system tray applet provides more options and information.
Offers only "adequate" performance with speed of uploads and downloads, according to the CloudPro website.
Despite its improved security, Google still does not encrypt the data stored on its servers.
Verdict: Google Drive does not have the same features as its rivals, yet it is relatively inexpensive and an effective storage option for businesses that use Google Apps. Google Docs rivals Microsoft Office for being user-friendly and its formatting power, and of the two is a more effective business tool for document sharing and collaboration. The biggest advantage to Google Drive is its integration with Google Docs and Gmail. From Chrome, or another (standards-compliant) browser, it is a fast and efficient way to preview office documents, PDFs, and most common photo and video file formats – without the need to install specific software to do so.
Online Google Drive offers easy navigation and an intuitive grid-based view, making it easy to browse through your files – particularly PDFs, PowerPoint files, or photos. Preview view allows you to quickly flick through previews of photos, documents and PDFs, then download or share them with just one click. Furthermore, the built-in Google Docs applications can be used to edit documents, on your own or in real-time collaboration with other Google Docs users.
Whereas you can edit Microsoft Office docs from your desktop Google Drive using the standard Microsoft Office applications, doing so within the browser requires importing them in Google Docs format before exporting the changed version. This is not a very streamlined process, and Google Docs can be less efficient to use when editing more complex documents.
Since its emergence last year, Google Drive has improved and is now more user-friendly and fully-featured. It still makes most sense as part of Google Apps, where it is the hub of document management and collaboration, or in smaller businesses, where Gmail and Google Docs are already used.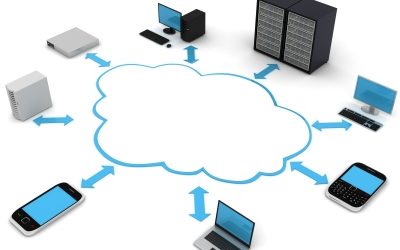 3) Apple iCloud
Advantages:
Although Apple iCloud did not used to be considered a product for a small business, it is currently the world's most widely used cloud storage service – citing 300 million users in April 2013. (Microsoft's Sky Drive was at 250 million users in May 2013.)
Connects multiple OSX and iOS devices – ensuring, for example, that data and documents used on an iPad will be replicated across MacBook Pro laptop and iPhone.
Effectively synchronizes iCloud.com or Me.com email accounts, or Calendar and Contacts.
Allows for Pages, Numbers and Keynote office applications from MacBook Pro to be opened with the compatible iPad app, with that updated version then also being available.
Designed to make media files from iTunes music library and iPhoto Photo Stream accessible across all these devices.
Photos from the iPhone camera upload automatically to Photo Stream for viewing and editing on a laptop.
Capability to back-up files and access uploaded music using the cloud.
Disadvantages:
The current beta version does not offer printing support.
It does not support versioning; users are not able to access an earlier or older version of a document.
Options for sharing a document via a link are not available.
iWork for iCloud doesn't provide the collaborative features that Office and Google Drive users take for granted.
Verdict: Apple iCloud has developed a reputation as a less than ideal business tool and compared to its rivals, iCloud is expensive. Although Apple provides 5GB of data free, users incur costs when they go beyond that – for example, if they back up an iPad or sync a lot of photos or music.
Those who work within compatible Apple systems in a business – such as iOS, OSX, and Windows (with some limitations), will find the ability to work efficiently between documents, though iCloud falls short on the file and folder-sharing features that make the other two cloud storage services effective business tools. For example, if you use an OSX system, Office files can be opened and saved to an iCloud account, yet the files need to be uploaded manually and converted if you plan to edit on an iOS device. Email, Contacts, and Calendar information will sync between an iPad/iPhone and PC using the iCloud Control Panel, and Outlook 2007 and 2010; however, there have been issues reported with compatibility between iCloud and the new Office 2013. Additionally, other email applications aren't supported, and synching with Android phones or tablets, or a Linux desktop, requires accessing iCloud through your browser. Individual documents can be shared via Email, Message, or Air Drop from an iPad or Mac, however there is no way to synchronize changes to one file or folder between two or more users.
The reliability of iCloud has also been questioned due to multiple outages. App developers have also voiced concerns about the Core Data component of iCloud failing to sync – not only corrupting data, yet on occasion even changing the file type (for example, PDF or text file) during synchronization.
Apple is working toward cross-platform use through its new iWork for iCloud web apps, however, which in the future could make it worth a second look by small businesses, or by those working in a mixed Windows/iOS/OSX environment.
To conclude Part II of this article series, the best storage protection you can get to ensure your valuable business files and information are backed up is to use the Cloud – no matter what technology you have in place. In our third and final article, we will address all of the storage options "in between" the basic hard drive (covered in Part I) and cloud storage (covered in Part II).
One helpful resource when you are doing comparison shopping is the CloudPro website (www.cloudpro.co.uk). Just enter the name of the storage device you want to research into the Search box and you will be provided with an article which handles "comparison shopping" for you!
It takes a lot of time and energy to do the research and comparison shopping necessary to make a wise purchase decision for your business. Let Provident Technology make this process much easier, and free you up to concentrate on your business. Contact us today, and we will find the best storage solution for your business!